Compliance with care recommendations is on the rise.
Upstate New York adults who have diabetes are better at managing their disease than they were just a few years ago, according to a review of self-reported patient data by Univera Healthcare.
More adults with diabetes are measuring their blood sugar daily, having an A1C blood test twice yearly, scheduling annual foot exams, getting regular exercise, taking diabetes management classes, seeing health professionals specifically for their diabetes, and even getting an annual flu shot.
"An increasing number of patients, by their own admission, are following the diabetes care recommendations from the U.S. Department of Health and Human Services, the U.S. Centers for Disease Control and Prevention, and the American Diabetes Association," said Univera Medical Director Steven Dina, M.D. "Unfortunately, we are seeing greater numbers of people being diagnosed with diabetes."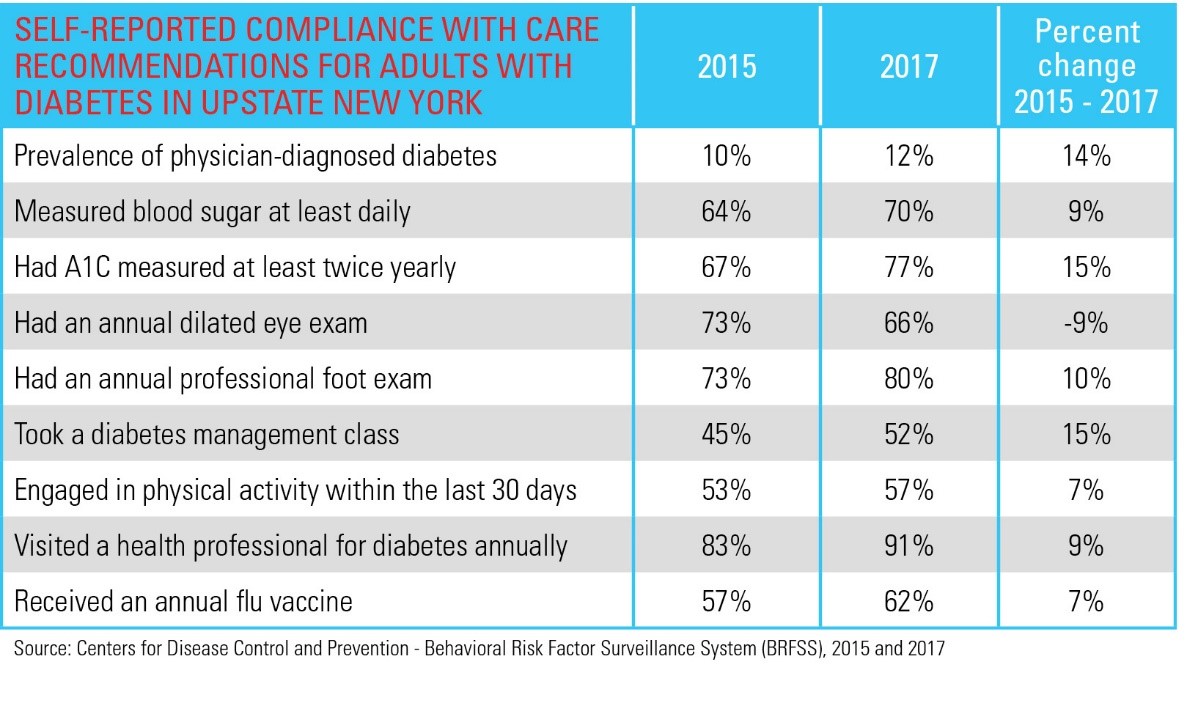 In 2017, upstate New York had approximately 440,000 adults with diabetes, a 14 percent increase from 2015, when the region had an estimated 387,000 adults with the disease.
Diabetes is a major contributor to cardiovascular disease (heart disease and stroke), the nation's leading killer. It also is the leading cause of kidney disease and non-traumatic lower extremity amputation.
Univera's review of the data revealed only one diabetes care recommendation that is on the decline. From 2015 to 2017, Univera found a 9 percent change in the percentage of adults who had a dilated eye exam within the last year. That's important, because diabetes is the leading cause of new blindness.
"Over the past few years, our health plan has committed nearly $1 million to initiatives that increase the number of diabetic retinopathy screenings in upstate New York," said Dina. "That includes funding a multi-year project with the Chautauqua County Health Network to increase retinal screening rates." Chautauqua County falls in the bottom 25th percentile in the nation when it comes to annual dilated eye exams, according to county health officials, with just 40 percent to 54 percent of the county's 12,500 adults with diabetes getting annual screenings.
Univera committed $130,000 over three years to the Chautauqua County Health Network's Tele-Retinal Diabetic Eye Exam Project to place retinal screening machines in 11 primary care practices that operate 19 practice sites in the county. Tele-retinal imaging is the Chautauqua County Health Network's chosen strategy to increase vision screening rates and reduce visual impairment
and blindness.
"The project goal is to increase the rate of completed annual diabetes-related eye exams in Chautauqua County by 30 percent in three years," said Dina. "We feel we can achieve this by making it more convenient for patients to get the screening in a primary care setting."
Univera summarized its findings on diabetes in an infographic that is available free.